travel
How to Get From Jeju City to Udo by Bus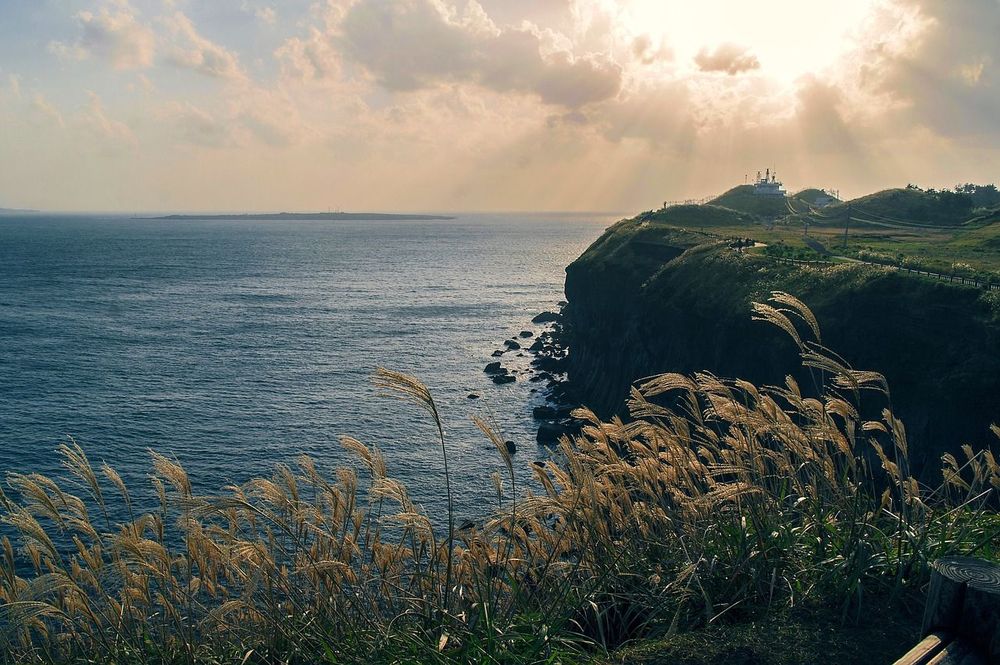 If you ever travel to 제주도 (Jeju island), no matter how boring your friends say 우도 (Udo) is, you shouldn't listen to them and make a nice one day trip to prove them wrong.
It's a small "cow" shaped island east of Jeju with the population somewhere around 2 000 people.
The only way to get there is by using a ferry, but first, you need to get to 선산항 (Seongsan port) which might be little tricky.
Let's suppose you don't have your own mode of transportation and you rely solely on a public transport. In such case, the only way to get to Seongsan port from Jeju city is by bus. The easiest way to take the bus to the harbor is to depart from 제주 시외 버스터미널 (Jeju Intercity Bus Terminal).
It's a white-yellow station on the main road hidden behind the city bus stop and a couple of trees. It's hard to tell it's a bus station if you arrive there by a public bus, and you don't look at it from the distance.
But before you go to the bus station it's always a good idea to check the bus schedule as it departs only every 50 minutes starting at 6:25 AM with the last bus leaving at 8:35 PM. Believe me, waiting for the bus at this station is not going to be too much fun.
Getting the ticket is pretty straightforward if you speak little Korean. There's a ticket office inside the station just below Jeju bus routes map. You can try asking for the ticket in English, but chances are they won't understand what you're trying to say.
I'm not a native Korean speaker so I'm not sure if this sentence is correct, but saying "성산항 입구 주세요" (Seongsanhang ipgu juseyo) did the trick for me. One way ticket price at the time of my journey was 3 300 Korean Won, which was pretty cheap.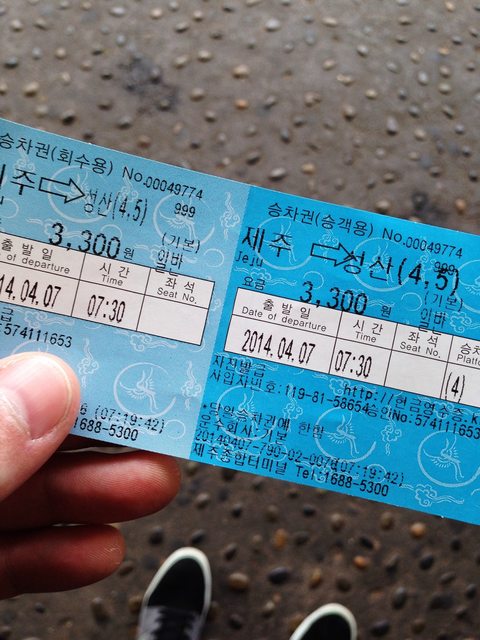 You have to take a bus no. 700 from a platform no. 4 to East Coast. When the bus arrives you can get seated even though a driver would often leave to get a coffee or have a cigarette. The tickets are checked once everyone is onboard. I'd suggest you get a seat on the left side of the bus unless you don't care about sea views. The driver will explain you should get your seat belt on, but it's not really comfortable if you're tall and/or big (westerner). Just pretend you're putting it on, but don't really do it (nobody does except tourists).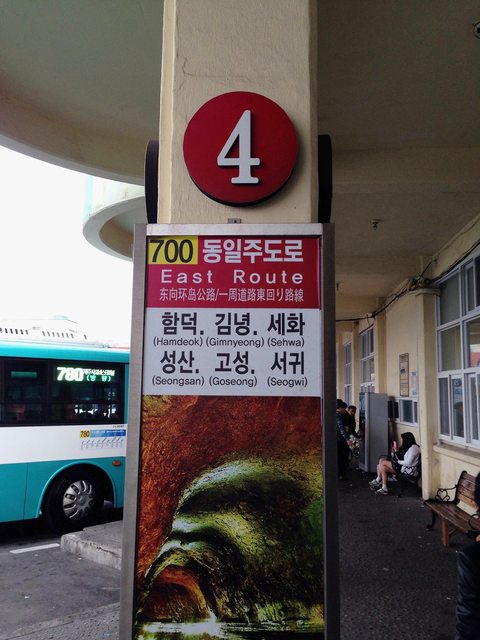 The bus journey takes approximately 1 hour and 45 minutes because there are I'd say more than 50 stops along the way. I would suggest you to take bus earlier, but not too early because it's stuffed with kids and students trying to get to school. Either way, it get's packed with all kinds of people once you leave Jeju city anyway. If you want to play a friendly foreigner, offer your seat to elders as those school kids don't give a flying shit.
When you start seeing Udo island be calm, there's another at least 15 minutes drive until you're supposed to get off. The driver is aware of tourists visiting Udo so he'll give you notice. If he doesn't, just follow the crowd (usually Chinese tourists).
After getting out of the bus, cross the road and go the opposite direction to the closest intersection. Turn right and just continue straight until you reach a parking lot. You'll see a white futuristic building (sorry, no photo) from the distance. It shouldn't take more than 10 minutes by walk to get to the port from the bus stop. If you're lazy enough you can take a taxi - there were few of them waiting for tourists.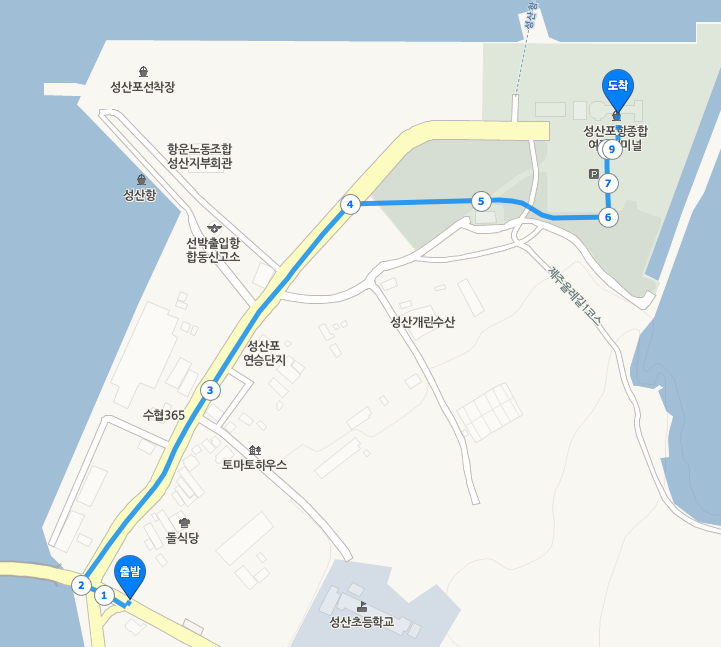 Price of a return ferry ticket to Udo was 5 500 Wons, but getting it is not as straightforward as buying the bus ticket. In front of the ticket office, there's a stall with something like "boarding cards". I have no idea what it's for because it's all in Korean, except labels for your name, age, and address. Just fill in the information and when paying for the ticket at the counter (they could understand little English) hand over the card.
The ferry from the Seongsan Port departs every 30 to 60 minutes starting at 8:00 AM and finishing at 6:30 PM. The last ferry from Udo departs at 6:00 PM, but I heard they will send a ferry for you if you get stuck over there by accident. I wouldn't count on it though.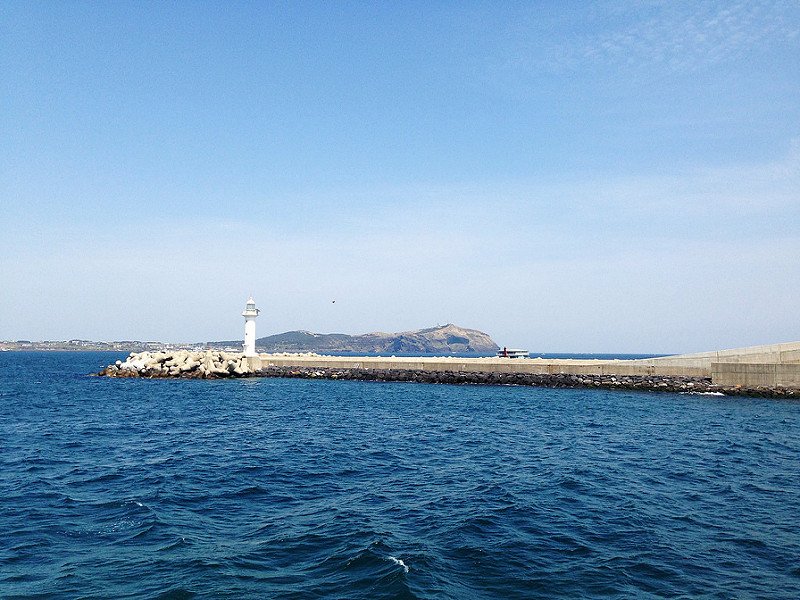 A bus stop to Jeju city is at the same spot where you crossed the road the first time. Be aware it might get really hot in this part of Jeju even in spring so check the timetable. There's no 7-11 or at least a lemonade stand anywhere near and you wouldn't want to wait on this sun for more than 10 minutes. Trust me.
Just take the same bus (you might even see the same driver) no. 700, but this time you have to get your ticket from the driver, which is really tricky because saying "제주 시외 버스터미널 주세요" (Jeju Intercity Bus Terminal please) is next to impossible for a foreigner. If you're brave enough you can learn this phrase on google translate, but you might as well try your luck with a simple "제주 주세요" (Jeju please). You can use your T-money card to pay for the ticket.
I hope you enjoy your stay at this nice and quiet place with white sand beaches, local food, stunning landscape views and shy, though really friendly people.
Where to stay on Jeju Island
Are you traveling to Jeju soon? If you haven't booked your hotel or hostel yet, now it's the right time.
Check out my favorite sites that I use to find and book the cheapest accommodation in Jeju.
Found this valuable?
Please consider supporting us. Thank you!
Support us