money
Case Study: How I made $500 on Airbnb Spending Just $5 on Facebook Targeted Ad Campaign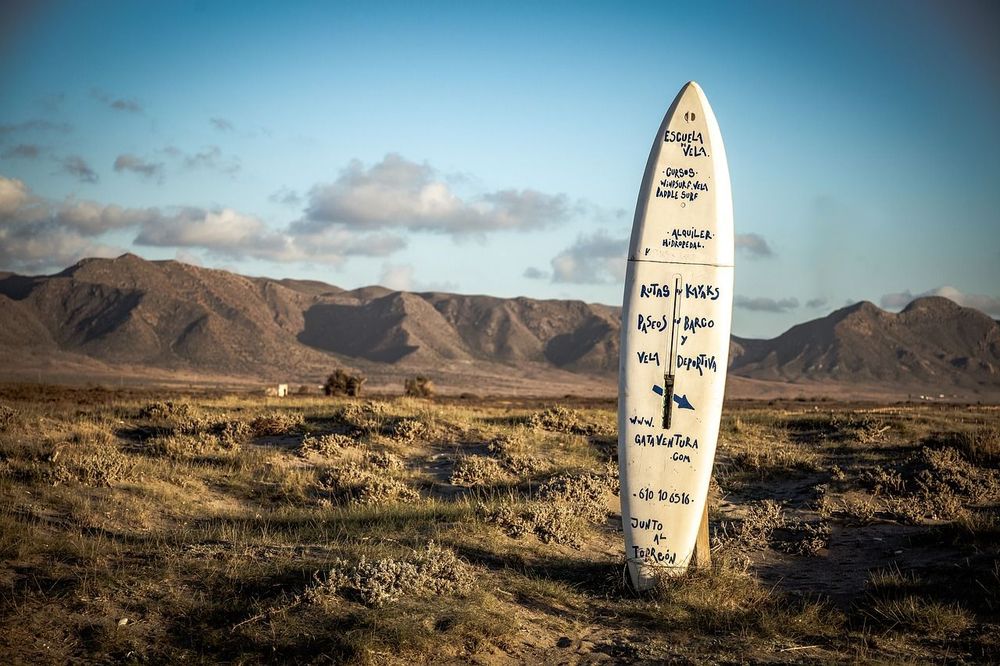 Airbnb gives you $20 for each new customer you bring in.
Just share your invitation link and wait until people take their trips.
However getting your friends (let alone strangers) to register and most importantly take a trip is more difficult than it seems.
Simple link sharing all over the Internet won't get you far, and your friends and family members don't like you enough to go out of their way to help you out.
I needed to approach it differently.
I'm on Airbnb since January 2012, but it wasn't until the beginning of this year that I started earning "real" money with them. I tried forum spamming, friends begging, nicely designed banners all over my blog before but none of it worked. I only managed to get few people on board. Good enough to lower the cost of my 2014 Eurotrip but overall I wasn't impressed.
No Funny, No Money
Then I realized people don't give the slightest fuck about you unless you provide them with some value. I decided to write an article on how to book a place to stay or some random generic shit you can find all over the Internet. Not exactly an added value yet better than spamming.
I opened up Airbnb and went through the booking process of some random accommodation. Took all the screenshots and was halfway through finishing the article.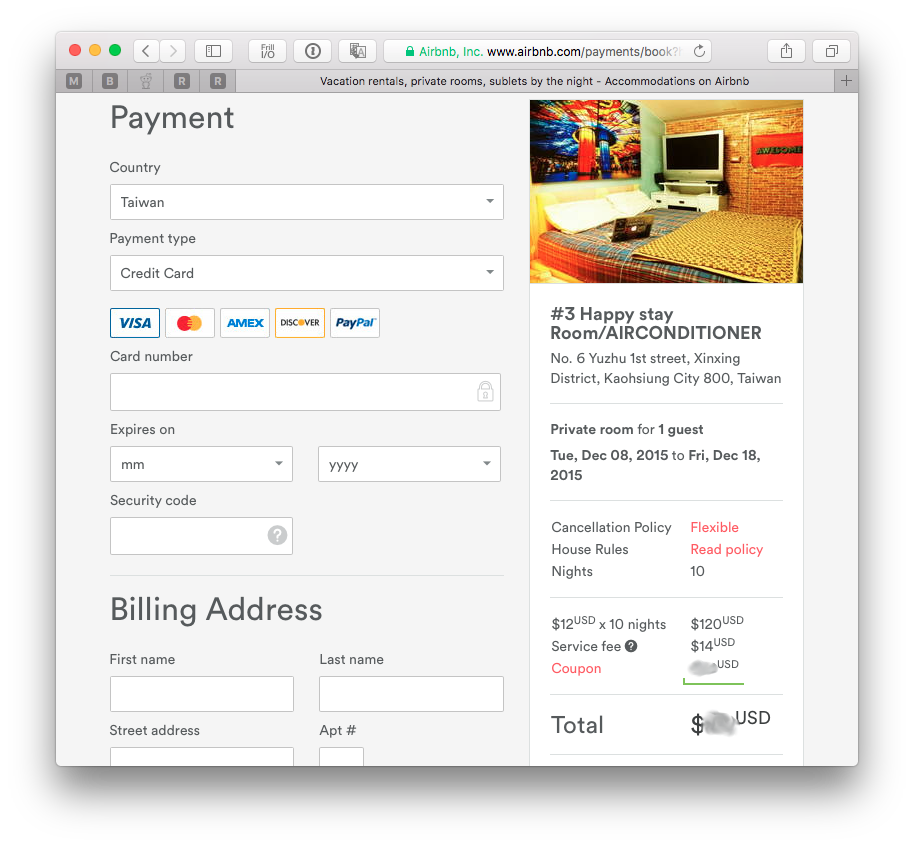 But then I got bored. I started clicking through the website erratically and accidentally found a way to get $40 instead of $20. Now that is some real value!
Quick google check to make sure there aren't tons of posts about it, about an hour of editing my original article and I was all set. I shared it all over my social networks and got few of my readers to register. Not bad, but I wanted more.
Promoting the Article
I had a terrible experience with Facebook ads in the past (mostly because I'm not good at setting it up), but because all referrals came from Facebook, I decided to give it a try. I didn't want to spend more than €5 though, so that was my final budget. I knew it wasn't much I just didn't trust my abilities and their system to deliver.
I created a campaign for this Facebook post with the following attributes:
Strict budget of €5
Ad running from Nov 17, 2015 to Nov 19, 2015
Age 21 - 45, both males and females
English speaking
Interests: Vacation rental, Bed and breakfast, Airbnb, Holiday cottage, Guest house, Lodging or Backpacking (travel)
Behaviors: All frequent travelers
Location: Austria, Australia, Belgium, Canada, Switzerland, Germany, Denmark, Spain, Finland, France, United Kingdom, Hong Kong, Ireland, Italy, South Korea, Liechtenstein, Luxembourg, Netherlands, Norway, New Zealand, Portugal, Sweden, Singapore, United States, South Africa
Placement: mobile and desktop news feed
Ad scheduling: Tuesday to Thursday 2 pm to 12 am
Optimization for Ad Delivery: Clicks on your ad
The potential reach of this ad would be 5 900 000 people with an "unlimited" budget. The real reach according to my budget was 310 - 810 people per day.
I launched the campaign, and it was confirmed in an hour or so. Unusually fast for this kind of low budget.
Ad Performance
After the ad stopped being served it was time to evaluate performance:
Ad was served to 1 056 people
9 people engaging (0.85%)
CPC €0.55
It doesn't seem like a lot, but given I earned $40 per engagement, it makes it $360 in total. And that is just for the time the ad being served. I've got additional clicks followed by registrations which made me over $500 in total.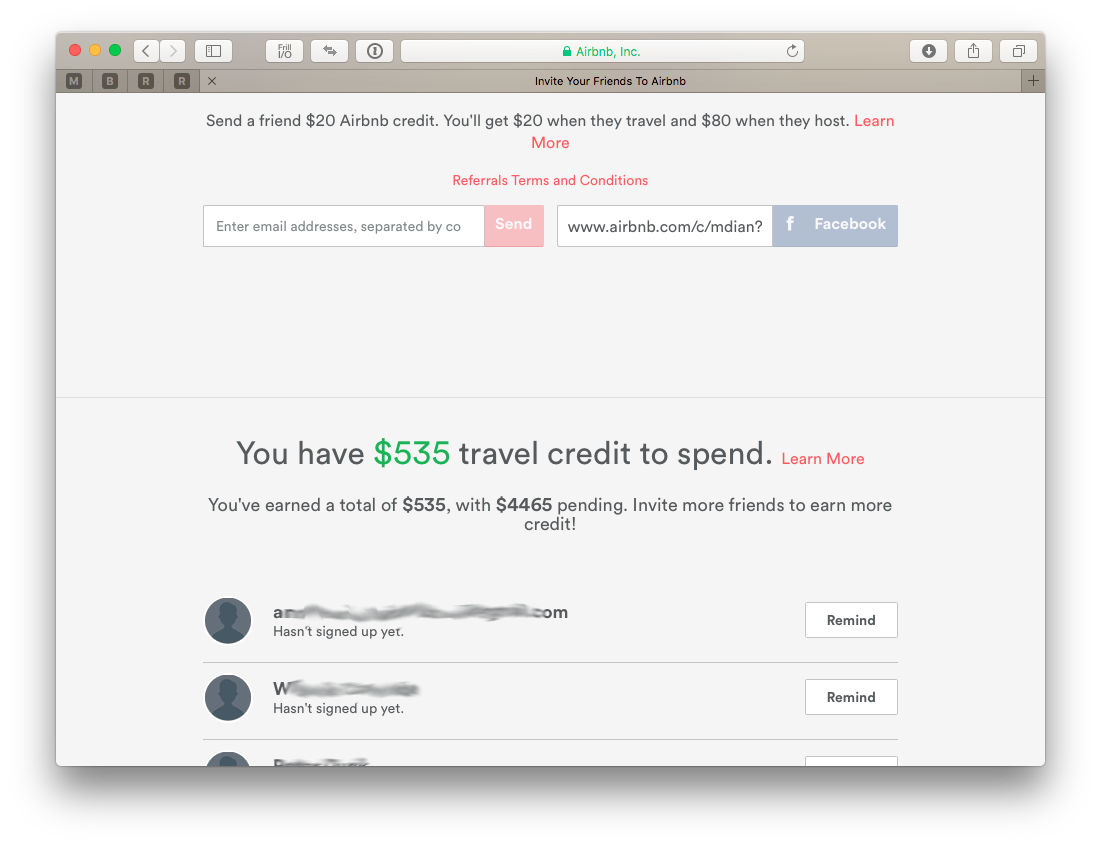 The money started coming in 2 months later after people took winter holiday trips.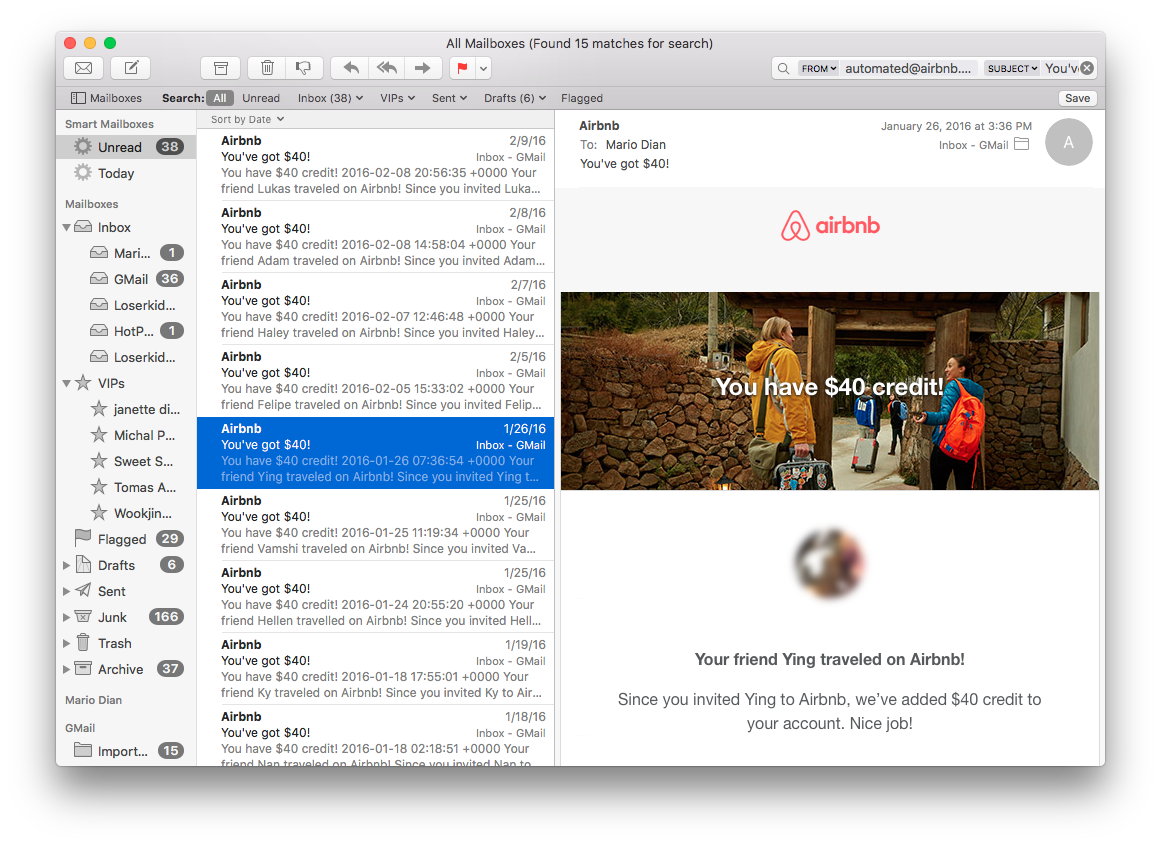 Optimizing the Ad
Based on the ad performance I decided to optimize my campaign. Looking at "Demographics" I found out my ad performed best for the age of 18 to 34. That's what I targeted next.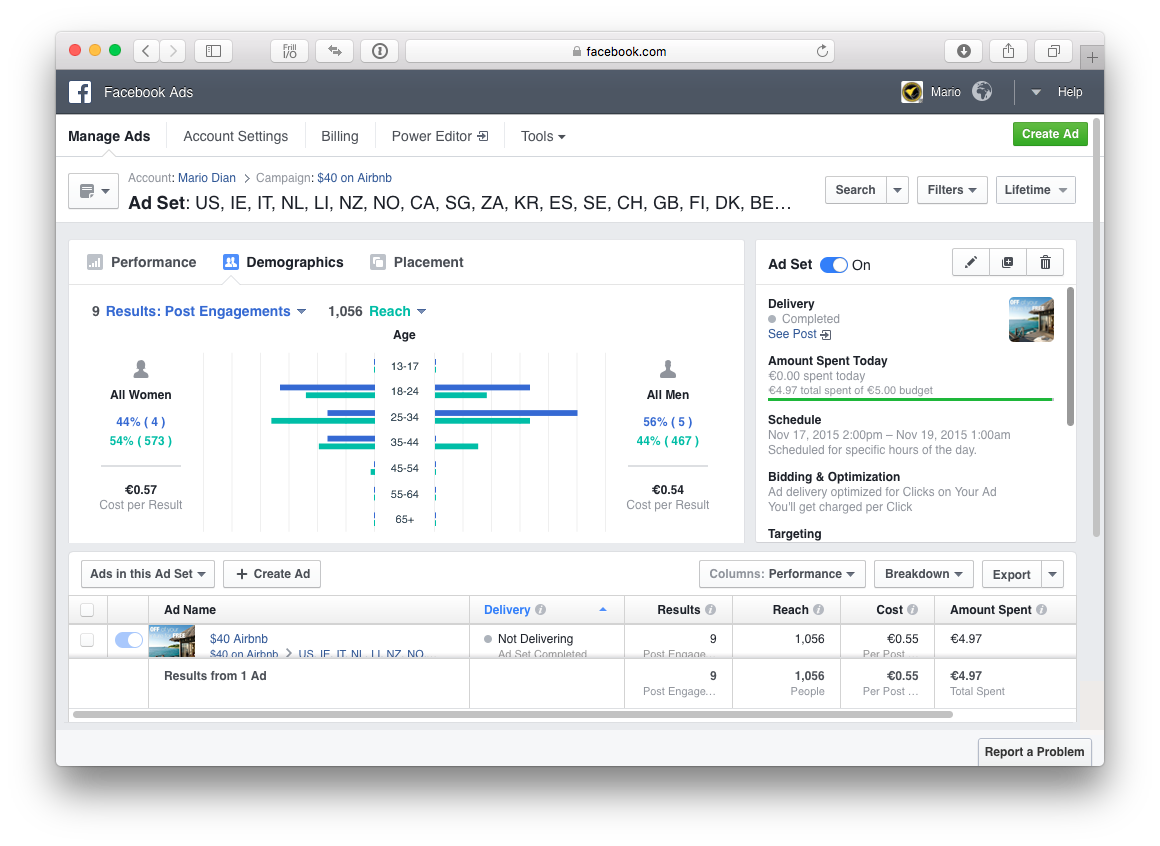 But what was really interesting to see is that I got the best performance on "Mobile News Feed". The ad got 94% reach and mind-blowing 100% engagement from mobile users! I think it has a lot to do with banner-blindness and increased use of ad blockers.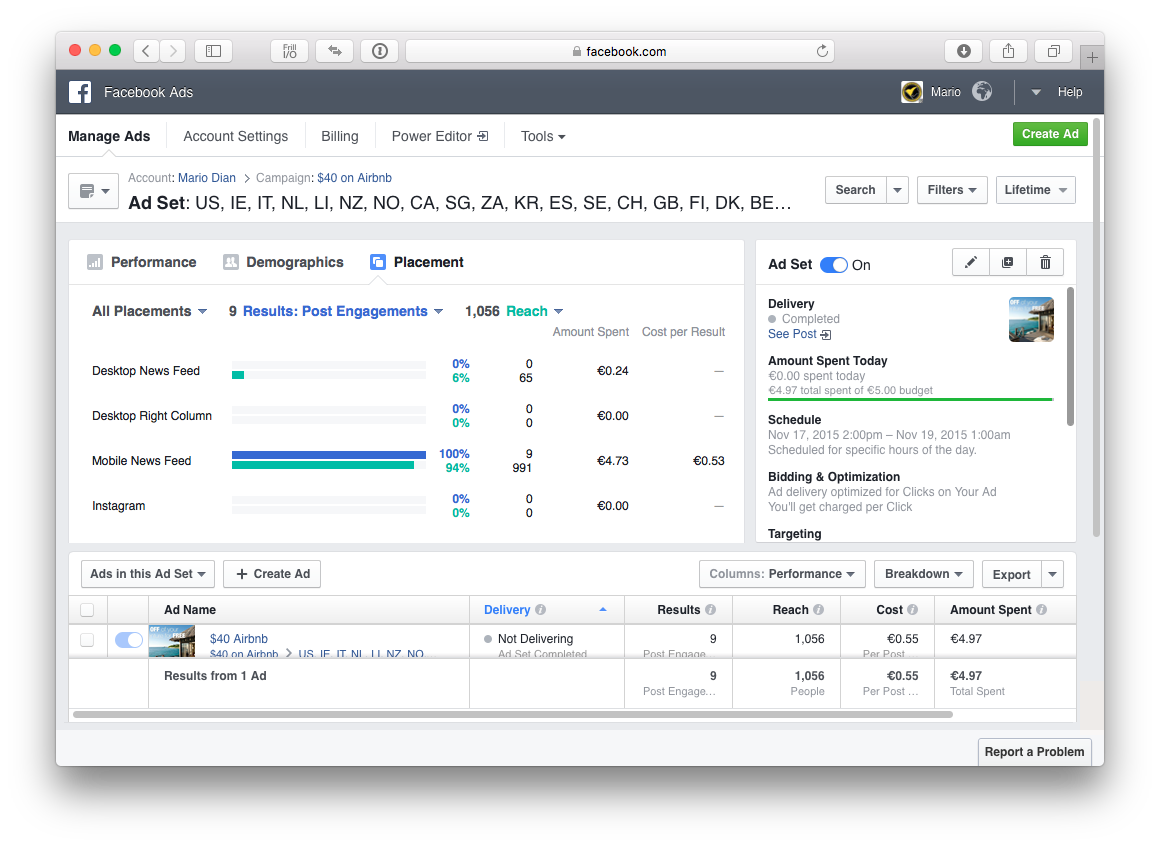 I was ready to publish my scaled campaign, but then I found out I hit the $5000 limit on Airbnb, and I could no longer earn using my affiliate link. So much for my scaling.
Despite hitting the limit, I still get $40 every now and then from people that registered earlier but haven't taken trips up until now. To date, it amounts to ROI of more than 10 000%. That's the second best performing investment I made so far, so I feel really happy about it.
If you want to read another case study of my best performing investment subscribe to my newsletter below and get notified when it's published.
Found this valuable?
Please consider supporting us. Thank you!
Support us