travel
Slovakia: 28 Amazing Places You Will Love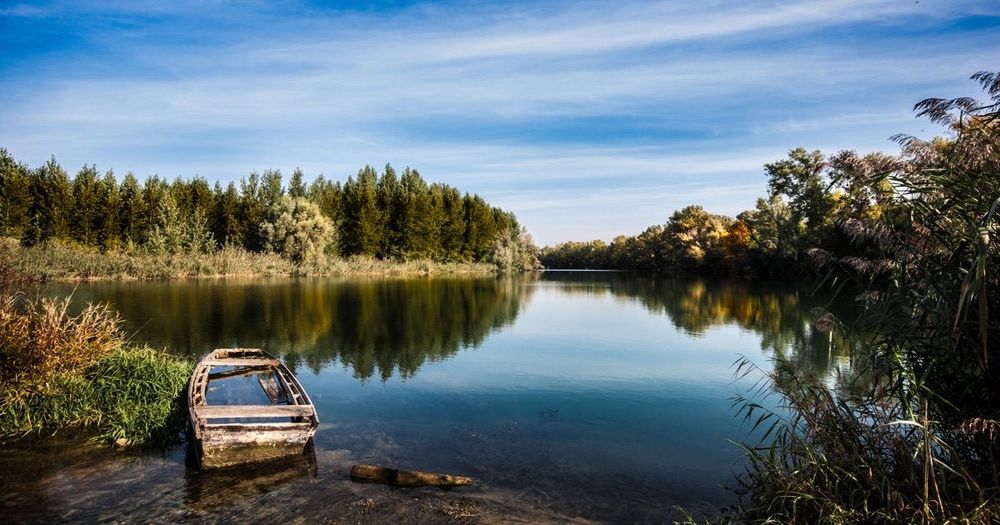 Slovakia may be a small and unknown country, but it has hundreds of interesting places to explore.
Though the people's behavior is weird - to say the least - amazing nature, culture, and the history make up for it. Here's my personal list of sights, attractions, and cities I liked the most and I think you will too.
And by the way, Slovakia is part of Central Europe, not Eastern Europe as many ignorant westerners like to think.
Enough for the geography lesson, here's the list.
Bratislava
It's the capital city of Slovakia and probably your entry point to the country. You may be surprised (horrified) by communist-looking train and bus stations but don't let this deter you from exploring the city.
Bratislava has one of the most beautiful old towns in Slovakia with the castle (Bratislavský Hrad) overlooking it from the hill.
The old town area is basically everything you need to see. However, if you want to experience more of the city you can visit UFO restaurant, Slavín Memorial or you could just have a walk along Danube river.
The Pieštany Spa
The Piestany Spa (Kúpele Pieštany) is a very favorite "tourist attraction" mostly for foreign visitors. You can enjoy hot springs and the healing mud that treats all kinds of chronic rheumatic and arthritic diseases.
Trenčín Castle
Trencin Castle (Trenčiansky Hrad) is undoubtedly one of the most beautiful castles in Slovakia. It futures many exhibition halls and beautiful view on the whole city from one of its towers.
Trenčianske Teplice
Trenčianske Teplice is a small yet famous spa town renowned for its sulphuric and thermal springs. It provides treatment for rheumatism and post-traumatic disorders.
It's only a short ride from Trenčín so it's a worth to pay a visit if you're nearby.
Kľak
Kľak is a part of the mountain range Small Fatra (Mala Fatra) which is a very popular tourist spot among hikers. I hiked the mountain many times as a kid and I was always blown away by the views.
There's a double cross on top and a little bit of historical explanation with it. The area was used as a landing site for paratroopers during the second world war.
Strečno
Strecno is a small town near the longest river in Slovakia - Váh. Behind the village sits a reconstructed ruin of the medieval castle on top of a steep hill overlooking the river.
Behind the castle, there's an open-air museum of the folk culture and a restaurant with all kinds of unusual beers. If this is not enough I'd recommend you to do a traditional rafting on the river to experience what the public transportation was like in the past.
Check out The Crazy Tourist's best places in Slovakia too
Terchová
Terchova is one of my most favorite places in Slovakia. Not only because there was The Offspring show held in one of its mountains, but because of amazing traditional food and countless hiking options.
It has the largest statue of a national hero Janosik (Juraj Jánošík) overlooking the town. Though according to many he wasn't a hero but a thief and possibly a murderer, the view from the hill is absolutely stunning.
If you are a fan of hiking the whole area is surrounded by hills. My absolute most favorite is Vrátna Valley (Vrátna Dolina). It's a valley situated in Malá Fatra with a ski resort and a lot of hiking options.
You're able to rent an engine-less scooter and scoot down the trail along the creek surrounded by mountains all the way down to Terchová.
There is a "must hike" system of canyon paths nearby called Jánošikove Diery with lots of waterfalls and rocks that you have to climb. If you haven't done it it's like you've never been to Terchová.
Bojnice
Bojnice is my hometown so I may be a little biased here. It's a home of the most beautiful castle Bojnický Zámok. You can walk inside and see beautiful chambers, a courtyard where they hanged criminals, a pond with a park, a cave beneath the castle and much more. They organize numerous events throughout the year.
The town also has the oldest zoo in Slovakia with the highest numbers of animals and species from all around the world.
Admission Fee
Behind the castle, there's a thermal public swimming pool and further to the woods, you can find a thermal spa. For the town of its size, it offers more than enough attractions that will keep you busy the whole day.
Dražovce Church
Drazovce Church (Dražovský Kostolík) is one of the oldest churches in Slovakia. It's around 1000 years old. You can't go inside but you get an epic view from the top. The church sits on the edge of a mountain and is visible from far away.
If you are very bored you can go to nearby Nitra which was once a very important city in Slovak history. It has a castle but it's mostly closed to the public. Only the area around the castle is accessible. Unless you want to go shopping in one of its shopping malls you can safely skip this city.
Mlyňany Arboretum
Arborétum Mlyňany is a protected area featuring thousands of trees and plants from all around the world. It's the largest collection of its kind in the country.
Podhájska Spa
Podhájska is a small village but featuring one of the most visited spas in Slovakia. It's also my personal favorite mostly for their swimming pool bar.
They have numerous pools both inside and outside with various water temperature ranging from very hot to very cold.
Komárno
Komárno is a historical city connected with Hungary by Elisabeth Bridge. There are many well-preserved buildings from Austria-Hungary times such as county and town halls, the courthouse, St. Andrews Church and the Danube Museum.
If the history is not your thing you can go for some fun and relax. Komárno features a thermal spa with water healing rheumatics and women issues.
You can also visit the Hungarian part of the city called Komárom. Because of the Schengen Area, you don't need any visa. Just freely walk over the bridge.
Banská Štiavnica
Banská Štiavnica was among the first places in Slovakia to make it to the list of UNESCO World Heritage. It has over 300 hundred well-preserved historical buildings.
Not only that. It's the mint town of Slovakia that dates back to Celts inhabiting the land. Because of the gold industry, the development in the town was booming. It was the first town in the World to have a technical university.
The town is very small and very easy to explore despite the sloped terrain. It has 2 castles that I recommend to visit. New Castle may be a bit of a walk, though.
There's also a beautiful baroque mansion not far from the town called St. Anton. Most of the mansion has the authentic interior which acts as an interior design museum. Nature lovers will also find a forestry museum inside.
Once you are outside of the town you should visit a small village Štiavnické Bane. It has a mint museum in the nature that depicts the life and work in these mints. I'm not sure if the whole museum is still open to the public but I remember we were given helmets and coats and went underground.
The underground exposition shows you the tools miners used hundreds of years ago as well as take you even further below the surface by a very sketchy lift. It's an unforgettable experience.
Kremnica
Despite its small size, Kremnica is a town with the oldest operating mint in the world. Part of the mint is a very interesting mint museum. After leaving the museum you can manually mint your own coin and take it home as a souvenir.
Kremnica isn't just all about gold coins. It has a very well-preserved castle which acts as a historical town center.
As with many cities in Slovakia, you can also visit its thermal spa. It has health benefits for your nervous system.
Banská Bystrica
Banská Bystrica is the largest city in central Slovakia and should definitely be on your bucket list. Not only I had the best burger in the world in one of its food stands, it also has a very large and beautiful pedestrian zone called SNP Square. Most main attractions (and restaurants) are concentrated at or around the square so you won't need to walk a lot.
At the end of the square, there's a leaning clock tower with the top being 40cm off the perpendicular. You can take stairs to the top to have an amazing view on the city. The entrance fee is less than 2 euros.
There's a small castle just across the street from the tower. However, I've never been there so you may be disappointed.
If you want to learn a bit about Slovak history during the World War II you should visit Museum of Slovak National Uprising (Múzeum Slovenského Národneho Povstania). It sits in a UFO-like shaped building and is only 5 minutes walk from the clock tower.
Hronsek
Hronsek, along with 7 other villages is included in UNESCO World Heritage Site list for its fully wooden evangelical church.
Because bureaucrats were against this particular religion they made it hard for them to build churches. One of many conditions were to build a church without any metal.
Donovaly
Donovaly is a small town near Banská Bystrica but with equal importance for tourism. It's one of the largest and most visited ski resorts in Slovakia. It features many restaurants with traditional food, spas and tons of attractions.
Attractions include snow scooters, dog sledding, paragliding, skating rings and lot more.
The place may be overpriced during the season so renting a cottage instead of booking a hotel room is very economical and way more fun.
Vlkolínec
Vlkolinec is an untouched traditional village and UNESCO World Heritage Site. It depicts the life in Slovakia as it was hundreds of years ago.
Orava
Orava is a region in north Slovakia bordering Poland. As a castle lover, my most favorite place in this area is Orava Castle (Oravský Hrad). According to many, it's considered one of the most beautiful castles in the country. And I agree.
Be sure to visit before or around noon as the castle is closed at 3 pm most of the year.
High Tatras
High Tatras (Vysoké Tatry) is the highest mountain range in Slovakia and of the most visited tourist places. There's a shared Tatra National Park with our neighbor Poland that has many great hiking options and beautiful nature to explore. You can also climb the mountains and stay in one of the cottages with other climbers along the way to top.
If you like winter sports you can visit one of many ski resorts such as Štrbské Pleso, Ždiar or Tatranská Lomnica. If you're more of a laid back person, there's an aquapark and wellness center in Poprad where you can stop by for a bit of relax.
Ochtinská Aragonite Cave
Ochtinská aragonitová jaskyňa is one of 3 aragonite caves in the world and on the list of UNESCO World Heritage Site. It has a rare decoration of shiny white branches of aragonite in its main dome - Milky Way Hall.
Slovenský Raj
Slovenský Raj (Slovak Paradise) is a mountain range in East Slovakia and to me the most beautiful national park. It has a huge network of caves, gorges, canyons, and waterfalls. No words are enough to describe what you're about to see.
Prepare some quality footwear because those ladders you have to climb up are slippery.
Dobšinská Ice Cave
Dobšinska Ľadová Jaskyňa is one of the most important ice caves in the world because of the amount of ice it's covered in. It's part of Slovenský Raj thus should be on your bucket list if you're in the area.
Bring some winter clothes because it's cold inside - and I really mean it.
Košice
Is the second largest city and also one of the best developed and historically well-preserved ones (because its former mayor almost bankrupted it with huge debts). It was a European Capital of Culture together with Marseille in 2013.
I've only been to Košice once but I immediately fell in love with its pedestrian zone. It has lots of cafes, restaurants, historical buildings and a singing fountain that rings bells every hour.
Spiš Castle
Spiš Castle (Spišský Hrad) is the largest castle in Central Europe sitting on a hill above a small village Spišské Podhradie (and few others). Though it's mostly ruined, it still feels somehow majestic. No wonder it's on the list of UNESCO World Heritage Site.
It was closed during my visit so I could only make it to the main gate. But it was still worth it.
Demänovská Cave of Liberty
Demänovská Jaskyňa Slobody is the most visited cave in the country. It has beautiful domes, the largest being the Great Dome, many lakes, and an underground water stream.
Levoča
It's a small town with many renaissance buildings the most known being the St. James church. It has the largest wooden altar in Europe and the highest in the world carved by Master Paul of Levoča.
The other notable historical buildings are City Hall, County House, few other churches and the Cage of Shame - the punishment cage sitting just outside of City Hall.
The town is on the list of UNESCO World Heritage Site.
The Geyser of Herľany
If you happen to be in Košice you should pay a visit to Herliansky Gejzír. It's a very rare cold geyser that spouts every 34-36 hours to the height of 15-30 meters. The length of the eruption is around 25 minutes. During 1957 and 2006 it was the only active European geyser of its kind.
To get there you need to get a bus from Košice main bus station, platform #33. It's only 38 minutes bus ride and costs less than 2 euros.
As you can see there are many amazing places in the country with only 5 million people. I've only spoken from my personal experience so I mostly gave you tips on West and Central Slovakia - that's where I grew up. However, you should explore the east as much. I'm sure you won't be disappointed.
How To Get Around
Moving around may feel a bit intimidating if you don't speak the language. Unfortunately, you can't get a local SIM card if you don't hold a residency in Slovakia. In that case, I strongly recommend you to download CG transit for your phone.
It's an offline trip planner for public transportation around the world. I remember the complete Slovak package cost less than 5 euros a year. Trust me, you will need it.
If you only want to rely on public WiFi (almost every cafe and restaurant has one) you can use a web-based trip planner instead. You can change the language in the bottom right area of the site. For booking train and bus tickets use one of these companies: RegioJet, SlovakLines, SlovakRail.
I hope you'll enjoy your trip! Also, let me know in the comments below what are your favorite destinations in Slovakia.
Found this valuable?
Please consider supporting us. Thank you!
Support us