business
How to Start an Offshore Company in Hong Kong
Recently, I went through the process of incorporating an offshore company in Hong Kong.
You can either do everything yourself which may be time-consuming or you can go a bit more expensive route and have one of many companies setting it up for you.
I went with the second option since I'm not based in Hong Kong and flying to Hong Kong and staying there for 2-3 days would cost the same if not more.
The company I've chosen to help me is ONE IBC.
Their staff is very helpful and friendly and they make sure you have your company incorporated in no time.
You can, of course, choose any other company and even set up your offshore business in countless other countries. The process should be very similar but the cost will differ from jurisdiction to jurisdiction.
For what I need, Hong Kong seems like the best option.
Before registering your business, make sure you understand all pros and cons of setting up an offshore company in a particular country.
Whether it's a tax evasion, less bureaucracy or simply a need for privacy, spend some time doing your research.
Only when you get familiar with each jurisdiction proceed with the next step.
#1 Company Details
Go to ONE IBC Company Formation/Incorporation Services - Order page and fill out the form based on your needs.
In my case, I've chosen Hong Kong as country of incorporation, Company Limited by Shares as a type of incorporation and I'm the only director, shareholder, and beneficial owner. May be different in your case.
I don't need a bank account in Hong Kong since I only accept Bitcoin, Monero and Litecoin so I left that field empty.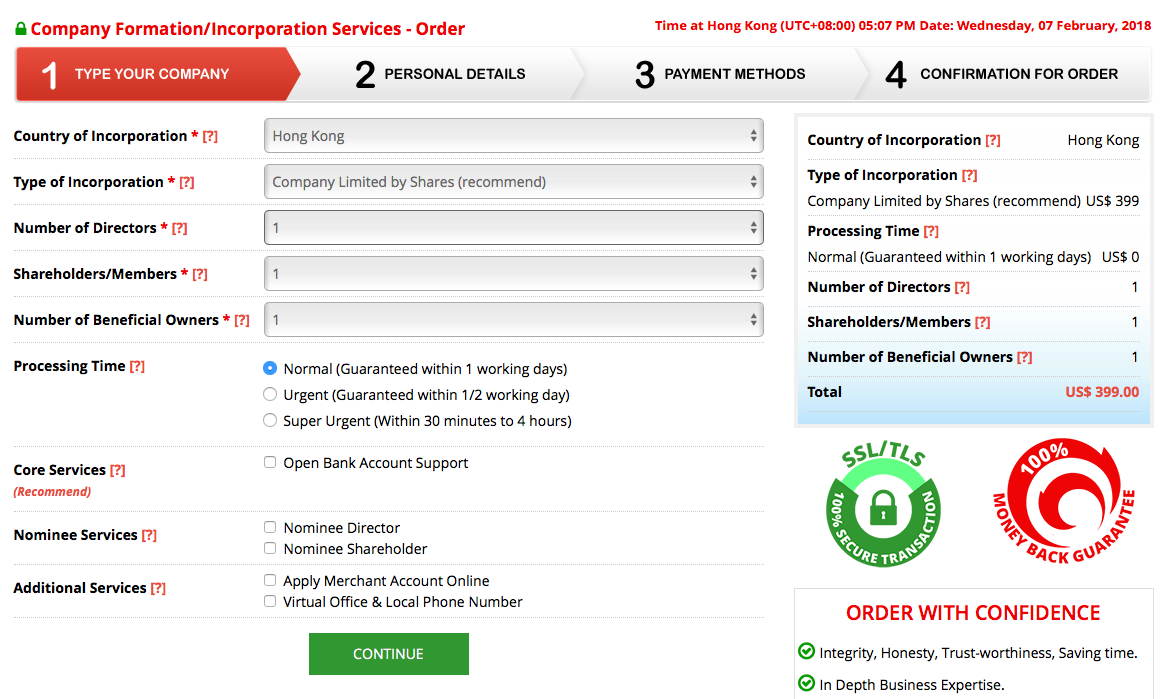 If you don't want to be officially tied to your company, you can select Nominee Services. For complete privacy, select both Nominee Director and Nominee Shareholder.
There are also some additional services such as Virtual Office and Online Merchant Account.
However, each service comes at the extra cost.
The total that you'd pay for a single-owner, single-shareholder company with all the extra services including a bank account in HSBC is $2 281. Whereas, the basic package is only $399.
#2 Personal Details
In the next page, you'll be prompted to provide all personal details about the company structure as well as the company's name.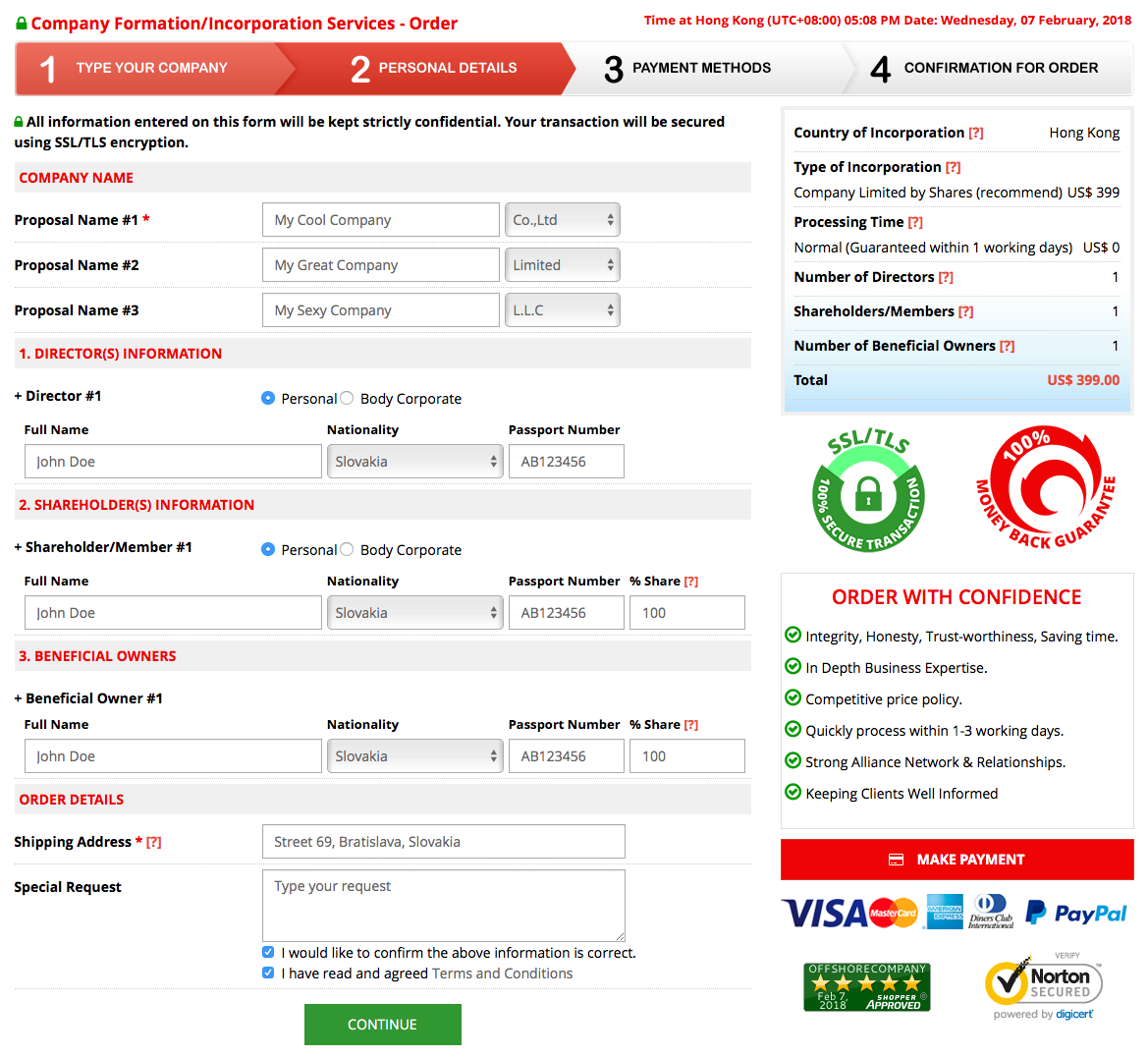 You can either propose up to 3 names and hope one of them is available or you can search in a database of existing companies and make sure your desired name hasn't been taken.
Make sure your information is correct and click CONTINUE.
#3 Fees
You'll have to make 2 types of separate payments.
One goes to ONE IBC for the service of incorporating your company in Hong Kong which costs $399 if you haven't chosen extra service.
You can either pay with credit/debit cards or PayPal. Unfortunately, Bitcoin is not supported yet.
The second payment goes towards Hong Kong government fees (Certificate of incorporation and Business registration) and costs $561. You will receive a payment link to your email address this time.

The total one-time payment to setup up the company is thus $960.
#4 Verify your identity
After the successful payment, you will be required to verify your identity via email.
In my cases I had to provide them with the following:
Color scan/photo of first two pages of the passport
Color scan/photo of front and back of the credit/debit card (hide the middle 8 digits and the security code)
Proof of residency no older than 3 months: bank statement, utility bill
Scan/photo of a completed and signed application form - Information of incorporation in Hong Kong (provided by them)
In their email, they claim the passport scan needs to be notarized. I just sent them a photo I took with my iPhone.
The proof of residency was the biggest problem as I can't provide any. I don't receive utility bills with my name, nor I had a bank account in Taiwan at the time.
After a couple of emails, they accepted the photo of a package with my name and address I received a few weeks before.
#5 Successful incorporation
Less than 24 hours later, I received another email confirming my company was successfully incorporated.
I received 2 documents: First Director's Meeting and the Certificate of Incorporation that I had to sign, scan and send back to them for their and government records.
Within less than a week I received a hard copy of all the documents and certificates in a neat packaging.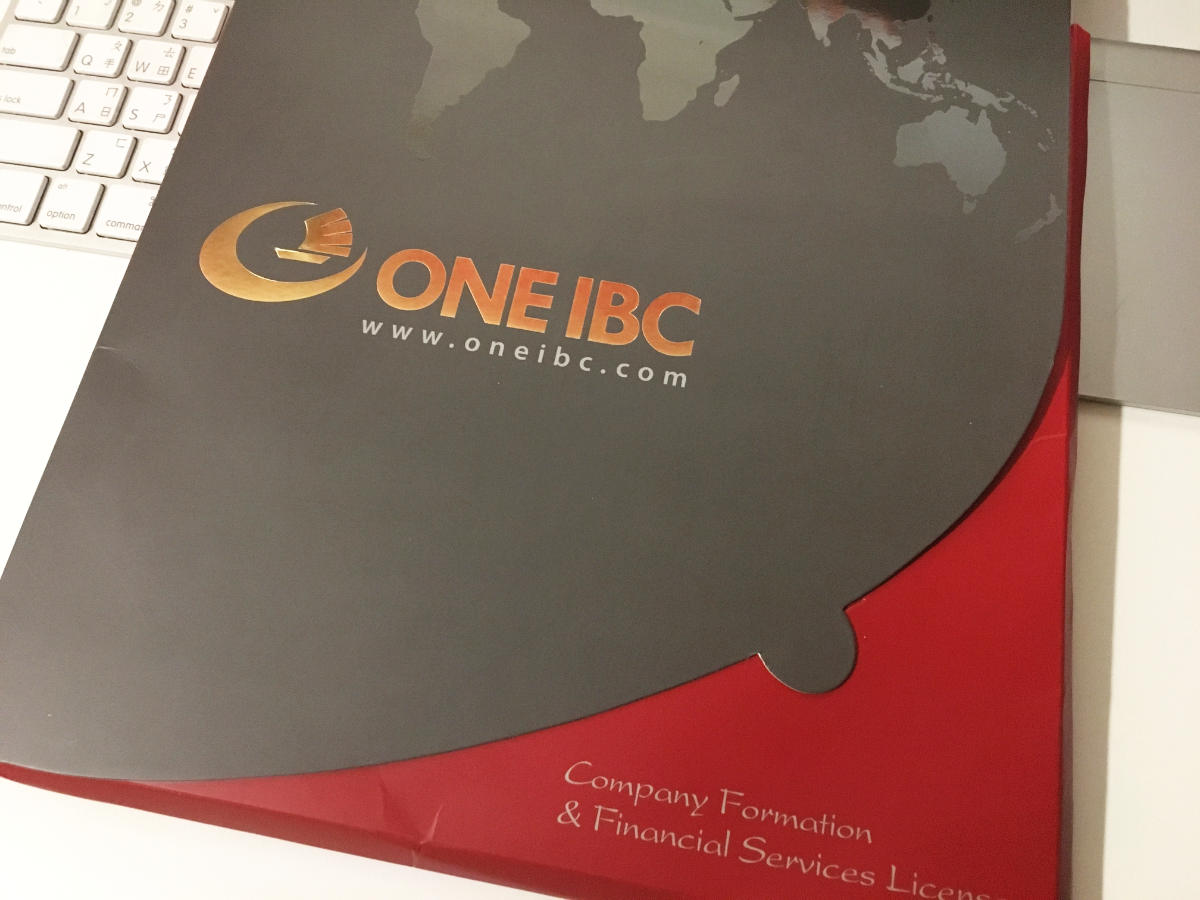 Congratulations, you've just incorporated your offshore company in Hong Kong.
#6 Extra cost
Hong Kong government requires each company to go through an annual audit. Unless you're a certified accountant, you'll have to have ONE IBC (or someone else) do it for you.
This, of course, comes at the cost.
The cheapest price is $1 235 at the time of the writing. The more transactions and bigger turnover you make the higher the cost.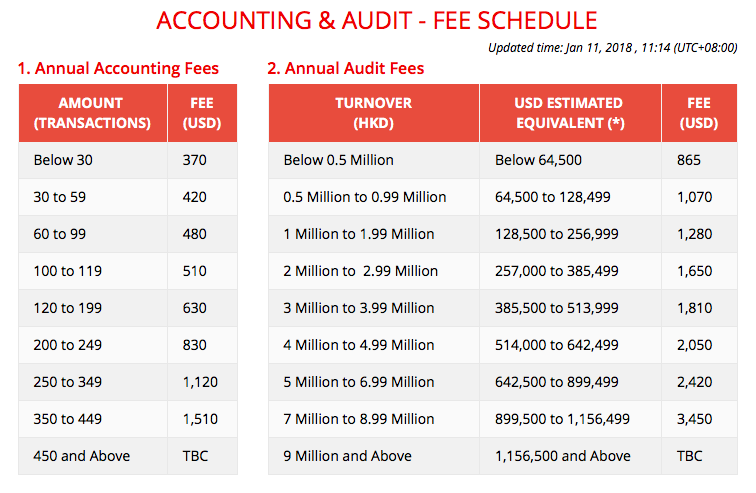 Fortunately, the government requires the audit for newly created companies after 18 months since the registration so you have some time to cover this extra cost.
*****
Currently, I'm in the process of registering a representative office of my Hong Kong company here in Taiwan.
It's a lot of bureaucracy and takes up to 2 weeks but doesn't cost any money (except for the office space/address itself).
I'll describe the whole process in the next article once my representative office is set up. Stay tuned!
Found this valuable?
Please consider supporting us. Thank you!
Support us